Wilhelm Grotrian once said to his sons, "Lads, build good pianos, and the rest will take care of itself", which is a phrase that has remained true for all used Grotrian pianos throughout the years. Grotrian pianos are backed by 180 years of family history, experience and above all, a love of music. When it comes to asking whether a used Grotrian piano is worth purchasing, the simple answer is yes.
Grotrian is a name that has always held weight, respect and admiration in the piano world. Royal families across Europe have appointed Grotrian to supply pianos to the court, and many well-known pianists from across the globe have endorsed and expressed their appreciation for Grotrian pianos.
used Grotrian pianos come with a rich history
Their rich history of quality craftsmanship means that each Grotrian piano is built to last, but as with any used piano, it is essential to do your due diligence. Even a quality piano from a reputable name can fall into disrepair if kept in poor conditions and not properly cared for over time. Sometimes used pianos are not worth purchasing as they will inevitably cost more in restoration costs than they're worth. But, by purchasing through a reputable seller like Markson Pianos, you can rest assured that your instrument has been restored to the highest standard.
Our used Grotrian pianos are just like new
All of our used and second-hand pianos go through the full regulation and setup process just as a new piano would, and where necessary, we ensure that any damaged parts are replaced or renewed.
Each piano will receive a minimum of two in house tunings so that its stability can be assessed. Once our team is satisfied that the piano is structurally sound and in top condition, it will be available for sale.
Above all, Grotrian's pianos are sturdy instruments; each grand piano houses beech rims, laminated beech pin blocks, Renner actions, a solid spruce soundboard and are single strung. One of the key features of a Grotrian piano that the manufacturer prides itself on is its 'homogeneous soundboard'.
Within this soundboard, each piece of wood is chosen specially for its contribution to the tone. The cast iron plate is then attached with screws along the edges of the rim as opposed to other manufacturers who connect to the top. Grotrian states that in doing so, the soundboard can vibrate more freely to create a richer, more resonant sound.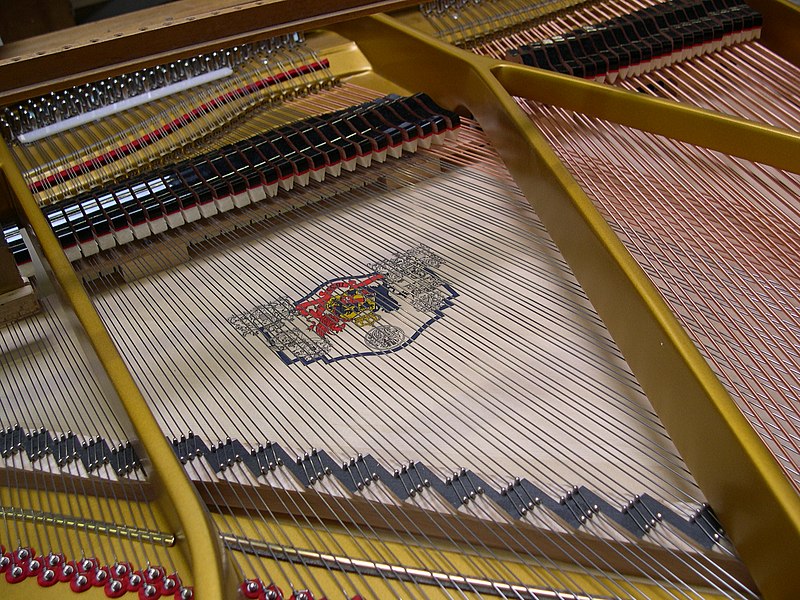 Upright Grotrian pianos are a great choice
Both Grotrian's grand and upright pianos are great choices when purchased as second-hand pianos, but their uprights are generally favoured for their longevity. Grotrian uprights have a uniquely shaped star-like wooden back structure alongside a full perimeter plate that helps to ensure the piano's structural and tonal stability throughout the years. Without a doubt, Grotrian pianos have an incredibly expressive and unique sound that stands the test of time and sets them apart from other manufacturers.
If you are looking for a used Grotrian piano, you will not go wrong in choosing any Grotrian Piano. Each model has its own unique and expressive sound that makes it a pleasure to play. They produce a stunning breadth of tone, expression and timbre that is perfect for more classical works whilst sustaining an incredible clarity of tone. If you are looking for a beautifully handcrafted piano that has character and all the best qualities of a piano, you would be wise to consider Grotrian. Alternatively, if you're looking to sell your piano, why not read our blog post on "How to sell your Piano".
Learn more about Our used Grotrian pianos
To find out more about our range of used Grotrian pianos, you can visit our website or get in touch with us today on 020 7935 8682. Our stock of second-hand pianos is continually changing and growing so, please get in touch to find out more about our newest arrivals.